---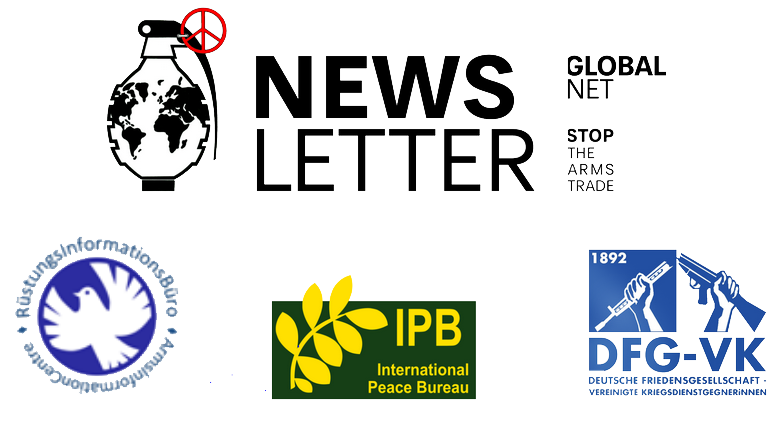 Highlights of this newsletter:
++ CASE 06-3: »Murderous Walls – The Border Between the United Mexican States and the United States of America« ++
++ On the Trail of Corruption – News from the »Corruption Tracker« ++
++ We Appreciate Your Support ++
Dear Ladies and Gentlemen, Dear Friends of Peace,
In the latest report in our series »Murderous Walls – Profiteers of Deterrence« we turn to the current issue of the militarized US-Mexican border. For weeks, a highly controversial debate has been raging in the U.S. about the sealing of the border and accepting more refugees. The analysis of our author María-Eugenia Lüttmann Valencia turns to the history of isolationism, the perpetrators, their weapons, and the victims.
++ CASE 06-3: »Murderous Walls – The Border Between the United Mexican States and the United States of America« ++
In 2016, Donald Trump's call for a monumental wall brought the U.S.-Mexico border back on the international agenda. But the closure of this border has a much longer history - and there is nothing to suggest that it will not continue into the future. Trump has merely been a passenger on this decades-old bandwagon. This border knows many profiteers of isolation on both sides: from contractors employing seasonal low-wage harvesters to human traffickers and drug traffickers to arms manufacturers from many countries all the way to arms dealers. At the same time, many organizations on both sides of the border are reaching out to victims and calling for an end to the bloody arms trade.
Part 3 of GLOBAL NET's Case 06 - highlights is the complex relationships between people, walls, power and money around the US-Mexican border.
We thank »Greenpeace« Germany for helping with the distribution of this case on social media.
See: https://www.gn-stat.org/?p=709
++ Collaboration Project: Database on Corruption and Arms Trade ++
In collaboration with Shadow World Investigations UK and the World Peace Foundation, Boston/USA, GLOBAL NET - STOP THE ARMS TRADE has launched the Corruption Tracker, which aims to be an up-to-date collection of all known cases and solid allegations of corruption in the global arms trade. Journalists, academics, and activists are working on the project to add cases to the database. We are creating a resource that will help us more effectively address the systematic ways in which the arms trade threatens political systems and undermines democratic governance around the world. Currently, the Corruption Tracker lists 41 cases, see https://corruption-tracker.org.
++ Support the GLOBAL NET – STOP THE ARMS TRADE by donating or becoming a member ++
Former UN Secretary General Antonio Guterres once said, »The world is overarmed and peace is underfunded.« Help us continue to give the victims a voice and the perpetrators a name and a face. Please donate or become a member of the ArmsInformationCentre (RIB e.V.; A registered charity in Germany) running the GLOBAL NET - STOP THE ARMS TRADE,
see https://www.gn-stat.org/?p=1910
We look forward to your feedback,
With peaceful regards, the editorial team,
Jürgen Grässlin, Ruth Rohde und Wolfgang Landgraeber
Translation Ruth Rohde
‹‹ ATTENTION: If you do not wish to receive this GN-STAT-NEWSLETTER
or if friends or acquaintances of yours would like to receive this newsletter as well,
please send a message to jg@rib-ev.de or graesslin@dfg-vk.de ››
Contact: ArmsInformationCentre / RIB e.V. with the GLOBAL NET, Freiburg
Email: contact@gn-stat.org, web: www.rib-ev.de,
phone: at present 0049-(0)761-7678208
In cooperation with: International Peace Bureau / Bureau International Permanent de la Paix, Berlin/Geneva, with 300 member organizations in 70 countries, Email: info@ipb-office.berlin, web: www.ipb.org
Translation by Ruth Rohde